DanBIF and GBIF
GBIF – Global Biodiversity Information Facility – collects and provides open access to data about Earth's biodiversity.
DanBIF – Danish Biodiversity Information Facility – is the Danish participant node and makes Danish, Faroese and Greenlandic biodiversity data accessible through GBIF.
GBIF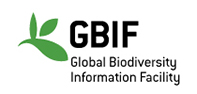 GBIF is a multinational infrastructure, which makes information about biodiversity freely available for searches and analysis through the Internet. This is achieved through a joint effort from the many countries and organisations which are members of GBIF.
Each member must maintain a participant node, which – amongst others – makes their biodiversity data accessible online at www.gbif.org. The GBIF Coordinating Secretariat is hosted by The Natural History Museum of Denmark.
Knowledge and information about the distribution of species is often limited to searches in one database at a time, which typically covers a specific group of organisms (for example fungi), a specific geographic region (for example Europe) or a "theme" (for example invasive species, pollinators, a museum collection etc.).
The purpose of GBIF is to make a single search provide a cross-section of results from several sources at the same time, where it is simultaneously possible to filter and choose your own criteria.
Geography is just one of many opportunities for filtering through data in GBIF. As an example, if one chooses to study the Aage V. Jensen Foundation nature reserve "Vejlerne" in North Jutland, one gets hundreds of thousands of data points in dozens of data sets from a broad selection of sources, including: the Danish Ornithological Society; NOVANA and §3-protected wetlands; the Danish atlas studies Flora Danica, Fungi, Mammals, Freshwater fish, and Butterflies; botanical herbaria; entomological studies and collections, as well as citizen science projects – all in a single search!
DanBIF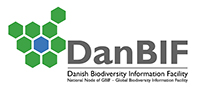 DanBIF is part of the museum's digital unit and is the Danish participant node of GBIF. DanBIF is an interuniversity cooperation (see below) and the day-to-day activities of DanBIF are organized and conducted at the digital unit of the Natural History Museum of Denmark.
DanBIF makes Danish, Faroese and Greenlandic resources of biodiversity data internationally accessible through the GBIF portal. It also serves as the connection between GBIF and Danish users of biodiversity data within research and natural resource management, amongst others.
The core services of DanBIF are:
Making Danish, Faroese and Greenlandic biodiversity data accessible through GBIF
Collect and maintain an inventory of every species in Denmark: Allearter.dk
Help data contributors and -stewards treat and prepare data for publication in GBIF
Data derives amongst others from:
Natural history museum collections with specimens from all over the globe
National programs for nature preservation and monitoring
Amateur society and citizen science-driven collections and observations, including atlas projects (for example mammals, birds, fish, butterflies, vascular plants, fungi)
Research projects – both private and public funded, including citizen science
DanBIF curates existing data sets; seeks out and brings in new ones; supervises the formatting of data for publication in the GBIF format; and how to use the GBIF portal.
Furthermore, DanBIF – where resources make it possible – participates in these activities:
Advices on and participates in biodiversity-related projects in Denmark, especially focussing on participation  in development and organization of a national species portal with the Danish Environmental Protection Agency
Assists users in utilizing and applying GBIF-derived data in research and management
Actively developing the usability of GBIF in a positive and innovative direction
Management and personnel
DanBIF is an interuniversity cooperation with an associated management board:
University of Copenhagen: The day-to-day activities of DanBIF are organized and conducted at the digital unit of the Natural History Museum of Denmark (NHMD)
Aarhus University: the Department of Bioscience operates the actual IT-infrastructure for data  sharing in GBIF
The University of Southern Denmark supports the operation of the DanBIF core activity Allearter.dk
DanBIF has one employee at the digital unit of the NHMD: Node Manager and Data Curator Isabel Calabuig.
Digitalisation efforts
By far the largest amount of specimens in museum collections still reside in a "digital darkness", where they are not immediately available for new purposes within research and knowledge development. These specimens reside physically in cupboards and drawers, and knowledge about their existence is present with collection managers, curators and researchers, and perhaps on paper form in catalogues, expedition notes or research publications.
To make the information about the existence of the specimens more easily accessible in a wider context, DanBIF participates in initiatives aimed at digitalising collections and presenting their data on the World Wide Web.